PASOLD STUDIES IN TEXTILE, DRESS AND FASHION HISTORY
From 2018, the Pasold Research Fund in partnership with Boydell & Brewer will publish an important new series of research monographs and collections of research essays on textile, dress and fashion history. For further information, follow the link below -
https://boydellandbrewer.com/series/pasold-studies-in-textile-dress-fashion-history.html
THE FIRST VOLUME IN THE NEW PASOLD BOOK SERIES PUBLISHED JOINTLY WITH BOYDELL & BREWER: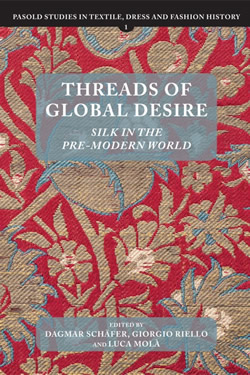 Dagmar Schafer, Giorgio Riello and Luca Mola, eds, Threads of Global Desire: Silk in the Pre-Modern World, published in May 2018.

Information: Considering silk as a major force of cross-cultural interaction, this book examines the integration of silk production and consumption into various cultures in the pre-modern world. Silk has long been a global commodity that, because of its exceptional qualities, high value and relative portability, came to be traded over very long distances. Similarly, the silk industry - from sericulture to the weaving of cloth - was one of the most important fields of production in the medieval and early modern world. The production and consumption of silks spread from China to Japan and Korea and travelled westward as far as India, Persia and the Byzantine Empire, Europe, Africa and the Americas. As contributors to this book demonstrate, in this process of diffusion silk fostered technological innovation and allowed new forms of organization of labour to emerge. Its consumption constantly reshaped social hierarchies, gender roles, aesthetic and visual cultures, as well as rituals and representations of power. Threads of Global Desire is the first attempt at considering a global history of silk in the pre-modern era. The book examines the role of silk production and use in various cultures and its relation to everyday and regulatory practices. It considers silk as a major force of cross cultural interaction through technological exchange and trade in finished and semi-finished goods. Silks mediated design and a taste for luxuries and were part of gifting practices in diplomatic and private contexts. Silk manufacturing also fostered the circulation of skilled craftsmen, connecting different centres and regions across continents and linking the countryside to urban production.

For orders see, https://boydellandbrewer.com/series/pasold-studies-in-textile-dress-fashion-history/threads-of-global-desire-hb.html
PASOLD STUDIES IN TEXTILE HISTORY PUBLISHED JOINTLY WITH OXFORD UNIVERSITY PRESS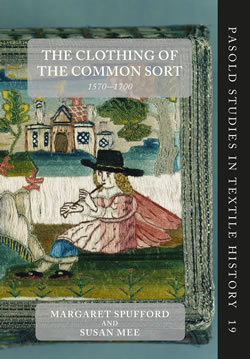 Margaret Spufford and Susan Mee, The Clothing of the Common Sort 1570-1700, published October 2017.

Information: Most histories of costume in early modern Britain concentrate on the clothing of the social elite. These are both more likely to have been documented, and more likely to have survived in museum collections. But it leaves out almost all of the clothes worn by almost all of the population. The Clothing of the Common Sort focuses on the clothing of children and young adults of the 'common sort' during the period 1570 to 1700 — the sons and daughters of 'ordinary' people going about their daily lives in towns and villages across England. The study employs a number of innovative sources not previously exploited for the purpose, including probate accounts and inventories. The volume examines the acquisition of clothing, from purchase of fabric, through production by tailors and 'women with a needle', to payment for ready-made items. In so doing, it uncovers evidence of the myriad tradesmen, craftsmen, artisans and 'women with a needle' who were involved in the production and dissemination of clothing and accessories in towns and villages across England in the late 16th and 17th centuries.

To order: https://global.oup.com/academic/product/the-clothing-of-the-common-sort-1570-1700-9780198807049?cc=gb&lang=en&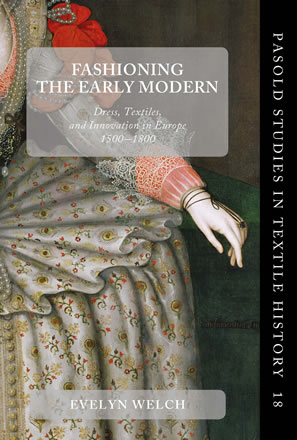 Evelyn Welch, Editor, Fashioning the Early Modern: Dress, Textiles, and Innovation in Europe, 1500-1800, published February 2017.

Information: How did fashion work in Europe before modern media? Why were beards suddenly stylish after 1500? Why did the ruff come in and out of use in the sixteenth and seventeenth centuries? Why did men from Spain to Sweden suddenly decide to adopt wigs around 1660 only to drop them less than fifty years later? How did manufacturers and merchants encourage and then respond to changing demands for colourful printed patterns and new cuts and styles of tailoring in the seventeenth and eighteenth centuries? As importantly, why were others unsuccessful in terms of their cross-European adoption? This book explores the ways in which men, women, state industries, guilds and entrepreneurs in early modern Europe created, innovated and promoted new textiles, novel products and unusual forms of dress. Challenging conventional explanations that explain fashion as spreading from the court elite downwards, it demonstrates the complexity of the relationships that made fashions successful.

For orders see, https://global.oup.com/academic/product/fashioning-the-early-modern-9780198738176?cc=gb&lang=en&#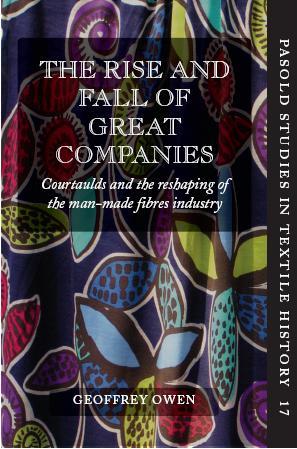 Geoffrey Owen, The Rise and Fall of Great Companies: Courtaulds and the reshaping of the man-made fibres industry was published by Pasold Research Fund and Oxford University Press in September 2010.
It is the 17th volume in the series Pasold Studies in Textile History.

For an overview of the themes covered in The Rise and Fall of Great Companies, please read Geoffrey Owen's article "When bigger is not necessarily better" published in the Financial Times on the 23 August 2010 and the book reviews by Martin Vander Weyer on The Mail on Sunday, 24 October 2010 and by David Higgins in Business History, vol. 53/3 (2011).
The Spinning World: A Global History of Cotton Textiles, 1200-1850, eds. Giorgio Riello and Prasannan Parthasarathi (Pasold Fund and Oxford University Press, HB 2009 and PB 2011).
This multi-authored volume contains the latest research of specialists from four continents. It is available now from bookshops, Amazon and direct from Oxford University Press both in hardback and paperback.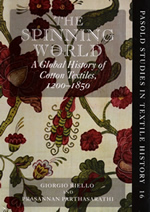 From No. 8, the series has been published in conjunction with the Oxford University Press http://www.oup.co.uk/ Copies of all volumes up to No. 13 (apart from volumes 2 and 7 -see below) are available from the Publications Sales Department, Maney Publishing, Suite 1C, Joseph's Well, Hanover Walk, Leeds LS3 1AB, UK. (fax: +44 (0) 113 386 8178). Volumes 14-17 are available from Oxford University Press or from bookshops.

No 17 Companies, Crises and Global Competition: Courtaulds and the Reshaping of the Man-made Fibres Industry

By GEOFFREY OWEN
320pp. 2010
ISBN 0 19 9592896, £45

No 16 The Spinning World: A Global History of Cotton Textiles, 1200-1850

by GIORGIO RIELLO and PRASANNAN PARTHASARATHI
489pp. 2009
ISBN 0 19 955944 2, £75

No 15 A Foot in the Past: Consumers, Producers and Footwear in the Long Eighteenth Century

By GIORGIO RIELLO
302pp. 2006
ISBN 01 19929225, £60

No 14 The Fibre that Changed the World: The Cotton Industry in International Perspective

Edited by DOUGLAS A. FARNIE and DAVID JEREMY
614pp. 2004
ISBN 0 19 925566 0 £75

No 13 The European Linen Industry in Historical Perspective

Edited by BRENDA COLLINS AND PHILIP OLLERENSHAW
334pp. 2003
ISBN 0-19-925565-2, £55

No 12 Hosiery and Knitwear: Four Centuries of Small Scale Industry in Britain c 1589-2000

By STANLEY CHAPMAN
328pp. 2002
ISBN 01 19 920237 0, £55

No 11 Well Suited : A History of the Leeds Clothing Industry, 1850-1990

By KATRINA HONEYMAN
336pp. 2000.
ISBN 01 19 920237 0, £45


No 10 The New Draperies in the Low Countries and England

By N.B. HARTE
216 x 156 mm 334 pp. 1997
ISBN 0 19 921063 3, £35.00 $67.00

See our Pasold Resource page for download.

No 9 Fashion's Favourite: The Cotton Trade and the Consumer in Britain, 1660-1800

By BEVERLEY LEMIRE
216 x 156 mm 244 pp. 1991
ISBN 0 19 921062 4, £30.00 $79.00

No 8 Lancashire on the Scrapheap: The Cotton Industry, 1945-1970

By JOHN SINGLETON
216 x 156 mm 256 pp. 1991
ISBN 0 19 921061 6, £30.00 $95.00


No 7 The Dress of the Venetians, 1495-1525

By STELLA MARY NEWTON
216 x 156 mm 208 pp 1988
ISBN 085967 735 4, £28.50 $47.00. Published by Ashgate and available from the publishers.


No 6 Technology and Enterprise. Isaac Holden and the mechanisation of wool combing in France, 1884-1914

By KATRINA HONEYMAN and JORDAN GOODMAN
216 x 138 mm 136 pp. 1986
ISBN 0 85967 727 3, £20.00 $40.00


No 5 The East Anglian Linen Industry. Rural industry and local economy, 1500-1850

By NESTA EVANS
216 x 138 mm 192 pp. 1985
ISBN 0 566 00847 5, £20.00 $40.00


No 4 Medieval English Clothmaking. An economic survey

By A.R. BRIDBURY
216 x 138 mm 144 pp. 1982
ISBN 0435 32138 2, £20.00 $40.00


No 3 The British Wool Textile Industry, 1770-1914

Corrected reprint by D.T. JENKINS and K.G. PONTING
216 x 138 mm. 400 pp. 1986
ISBN 0 85967 729 X, £25.00 $50.00

See our Pasold Resource page for download.

No 2 Cloth and Clothing in Medieval Europe. Essays in Memory of Professor E.M. Carus Wilson

Edited by N.B. HARTE and K.G. PONTING
216 x 138 mm, 448 pp. 1983
Out of print


No.1 European Textile Printers in the Eighteenth Century: A Study of Peel and Oberkampf

By S. D. CHAPMAN and S. CHASSAGNE
216 x 138 mm 272 pp. 1981
ISBN 0 435 32170 6, £25.00 $50.00

See our Pasold Resource page for download.
Earlier 'Pasold Studies in Textile History' were published in association with Heinemann Educational Books, and later in association with Scolar Press, an imprint of Gower Publishing Co. Ltd.
Medieval English Clothmaking: An Economic Survey

by A.R. BRIDBURY. 1982.

Leonardo da Vinci: Drawings of Textile Machines

by K. G. PONTING. 1979. (out of print)

The Industrialization of a Central European City: Brno and the Fine Woollen Industry in the 18th Century

by H. FREUDENBERGER. 1977.

Ladybird Ladybird: A Story of Private Enterprise

by Eric W. Pasold. 1977.

Wiltshire and Somerset Woollen Mills

by K. H. ROGERS. 1976.

The West Riding Wool Textile Industry 1770-1835: A Study of Fixed Capital Formation

by DAVID JENKINS. 1975. (out of print)

The West Riding Wool Textile Industry: A Catalogue of Business Records from the Sixteenth to the Twentieth Century

by PATRICIA HUDSON. 1975.

Employer and Employed: Ford, Ayrton & Co. Ltd. Silk Spinners, 1870-1970

by E.R. & J.H.P. PAFFORD. 1974.